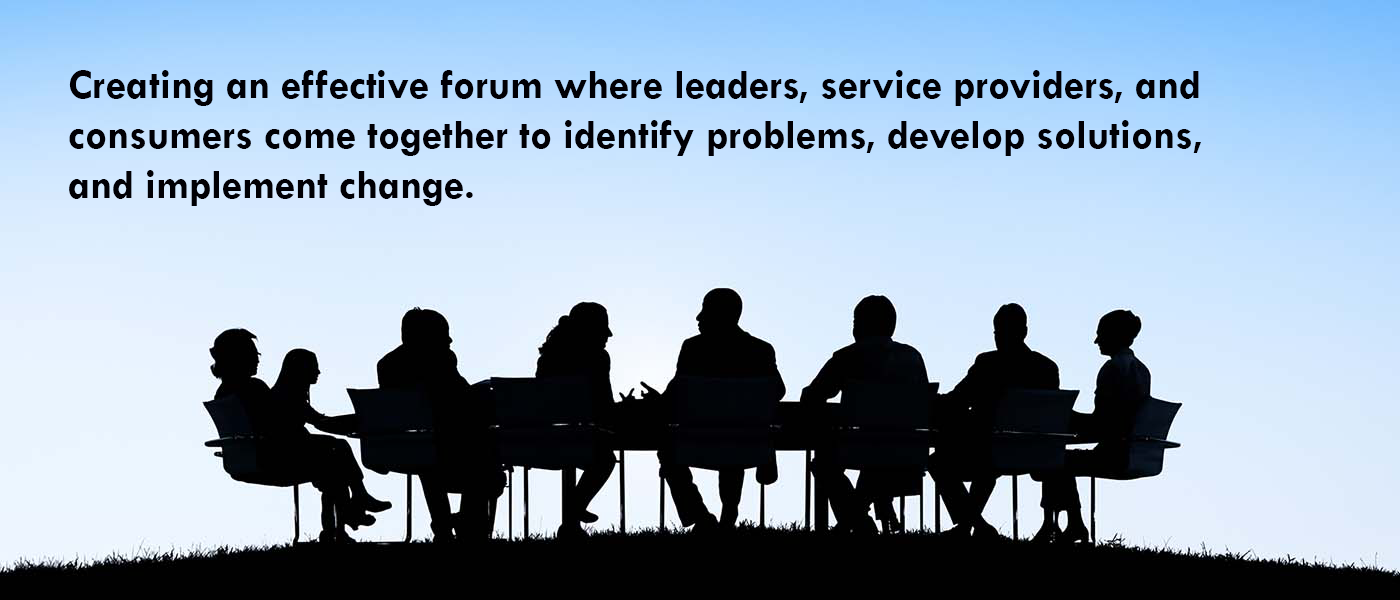 The Communications Infrastructure of the Community Health Council seeks to create an effective forum where leaders, service providers, and consumers come together to identify problems, develop solutions, and implement change.
The "Communication Infrastructure" of the Community Health Council refers to both the people that will comprise the council and drive its mission as well as the organizational structure and collaborative engagement of the stakeholder groups.
The CHC will rely on three stakeholder groups comprising the new Community Health Council (CHC): government leaders, service providers, and consumers. The purpose of the CHC will be to iteratively select problems, oversee solution development, and provide strategic input on how to implement solutions. PCIC's seeks to design the Communication Infrastructure, to coordinate the creation of the CHC, and to facilitate the Council's activities. PCIC aims to enable the creation of our community's capacity to solve care coordination problems by relying on a strong evidence base and focusing on cost-reduction.
What kind of problems will the Council select?
The problem selection process will be data driven and must meet the following criteria:
Be costly to our community
Span more than one sector of health and social services
Be supported by consumers
How will the Council develop solutions?
As in all activities of the CHC, solution development will be data-driven and be supported by iterative, real-time analytics. The solution should meet the following criteria:
Be centered around care coordination and identify avenues for cost reduction
Improve quality of life of clients across multiple systems
Be feasible and focus on a population most amenable to intervention
Be sustainable with respect to the long-term impact of the solution
Be explored and vetted with consumers
Incorporate an evaluation component
What will solution implementation look like?
Proposed solutions must include a sustainability model supported by those benefiting from the interventions
Outcome measures will be established to track cost, the quality of care, improved efficiencies and overall well-being of consumers
Specific dashboards will be created for stakeholder communication resulting in consumer empowerment and engagement. Consumers will be part of any solution
Solutions will also be rigorously evaluated. Read more on our research work here