"Our community can no longer afford to operate in silos. The Community Health Council model seeks to leverage data so the leaders, service providers, and consumers in our community can identify crucial problems, develop solutions, and implement change."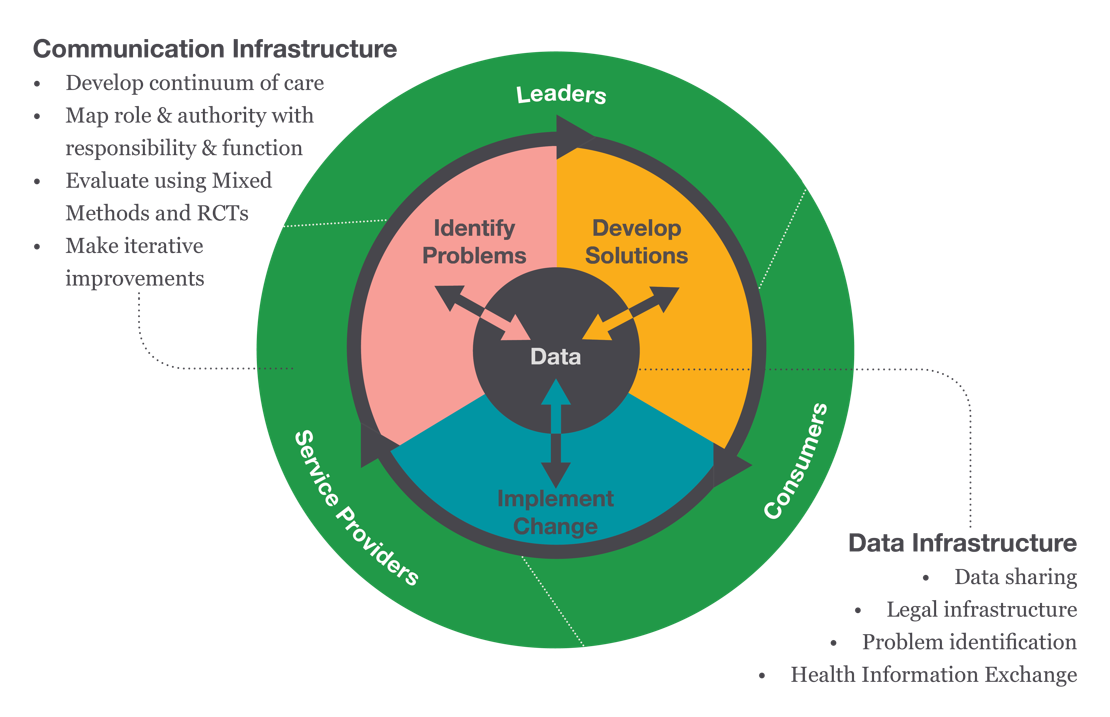 Introduction
Our solution to the current "silo-based" model of care is the establishment of the Community Health Council that seeks to improve health policy, health outcomes, and other social outcomes in Harris County, TX through two major innovations –
(1) by overlapping information in a data infrastructure and
(2) by fostering dynamic collaboration between stakeholders through a communications infrastructure.
Approach
A Data Infrastructure is needed to allow data sharing, identification of duplicated services and the problems experienced within our target High-Need, High-Cost population, and analytics across service delivery systems (of both health care and related services).
A Communications Infrastructure is needed to bring government leaders, service providers, and consumers together to organize input and enhance collaboration for developing solutions. The newly created Community Health Council (CHC) will implement this communications infrastructure.
The Data Infrastructure will enable the Community Health Council (CHC) to engage in the following activities:
Identify high-risk populations that overlap multiple systems
Identify cost problems facing those populations
Develop coordinated approaches that are potential solutions to those problems
Implement those approaches
Rigorously evaluate the impact of approaches to identify what works and what doesn't
The strength of the CHC model is in its inclusion of all stakeholders – government leaders, service providers, and consumers to leverage their combined expertise. The strength of the Data Infrastructure comes from integration and sharing data across systems with outputs tailored toward the care coordination goals of the CHC.
What we do
PCIC currently stands at the center of establishing both the communications and the data infrastructures as well as providing the evaluation component of the proposal. We plan for the project to have strong community roots and become self-sustaining beyond an initial foundation-based funding period of two years.
Current status
We are currently anticipating funding for this project from a major national foundation. A crucial need exists for collaborative, data-driven decision-making at the local, state, and national levels. We believe that our proposed approach is a strong step in the right direction.
Steps ahead
Establish the Community Health Council with representation from community leaders, service providers, and consumers
Build the technological platform to support problem identification, development of solutions and implementation change